Focusing their attention on the original vision that started this association and keeping true to the standards set in Brazil, Professor Royler Gracie and Professor David Adiv provide the support, knowledge and experience that allow our members to experience real Gracie Jiu Jitsu and its benefits.
The RGDA counts with a unique system and teaching methodology that works with the individual aiming for the collective wellbeing. This system is based on the following principles:
- A comprehensive program
Our program provides the practitioners opportunities to work with all aspects of Gracie Jiu-Jitsu. Self-defense, GI, NO GI Submission Grappling or NHB – No Holds Barred, each aspect in our program is presented in a unique way that allows for the gradual growth and proper development of the practitioner.
- Assertive teachers
The RGDA instructors are select individuals who are committed to the development of our students and communities. Their knowledge and expertise are based on their constant study and practice of Gracie Jiu-Jitsu under the tutelage of Professor Gracie and Professor Adiv.
- A positive environment:
RGDA schools are more than just a gym. They are a complete environment that suits each and every person's needs. Kids, teens, men, women, seniors, avid competitors, fitness enthusiasts, those seeking better physical health and wellness, professionals of the Law Enforcement field and others. In the RGDA environment students learn how to truly be supportive of one another and how to use their drive to develop in a positive way.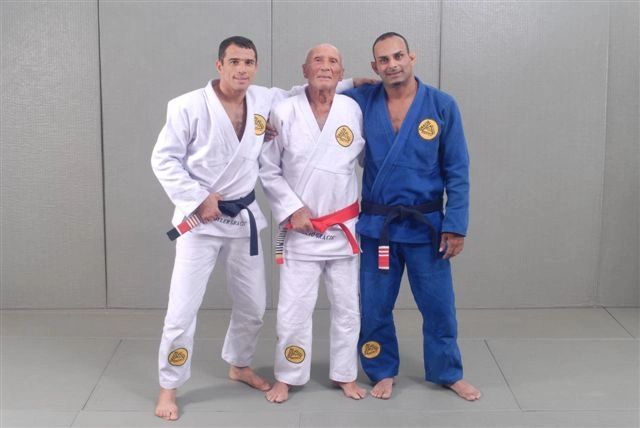 Master Royler Gracie, Grandmaster Helio Gracie and Professor David Adiv
Photo Shoot for the bestseller: Gracie Submission Essentials: Grandmaster and Master Secrets of Finishing a Fight (Brazilian Jiu-Jitsu series)